In this section you will find information including:
Activities in Dinner Plain
Driving in the Snow, Chains, Petrol Stations.
New Resort Entry Information
Ski Hire and Sales Outlets
Activities
Sled Dog Challenge
Located in the spectacular Victorian High Country Dinner Plain. Australia's original, and most prestigious Sled Dog race will once again see Sled Dog teams from across Australia competing for victory on the stunning tree-lined trails of Dinner Plain.
More than 70 Mushers (dog team drivers), and in excess of 350 sled dogs are expected to compete in this year's event across 5 classes. As the sport matures, the introduction of the popular Touring class gives an opportunity for older, retired dog sled teams to once again run on the snow, in a less competitive environment.
With many of our properties being dog-friendly you can even bring your best mate along to Dinner Plain. However, the event coordinators ask that for the weekend of the challenge, non-competing dogs are kept well away from competing dogs.
Sled Dog Tours
Dinner Plain Sled Dog Tours
Our team of purebred Siberian Huskies takes you on a thrilling ride across snow, in Dog_sled_380 through the beautiful Alpine village of Dinner Plain. Get ready for a view like no other! We'll show you the unique Australian Alpine environment and glide through the Snow Gums of Victoria's picturesque Dinner Plain Village. After your sleddog tour, meet the huskies, share some time with them and take lots of photos.
So join us and our Siberian Husky family for a ride to remember and make your stay at Dinner Plain complete! Wrap up warm and well see you on the trail. Bookings 0408 359 413. Sleddog tours are limited so book early to avoid disappointment
Visit our website here to meet the dogs!!!
Tobogganing
Is a fantastic and free activity for children, teenagers and adults alike. All you need is a toboggan and some snow and off you go! There is a toboggan run at Cobungra Platter at the Scrubbers End Overnight Carpark. You can check the status of the toboggan run here Dinner Plain snow report

Snowshoe Shuffle
Is a great way to explore Dinner Plain and its surroundings. Snowshoes are available for hire from Hoys Ski Hire in Dinner Plain.
Cross Country Skiing
Is a great free activity. You do not need to buy a lift pass to access the groomed cross country trails around Dinner Plain and Mount Hotham. There is a fantastic 10km trail that will take you from Dinner Plain up to Mount Hotham and vice versa. So give it a go and explore the beautiful bushland and snow gums while you are on cross country skis. Hoys Ski Shop is the only on-mountain shop where you can rent XC gear.
You can collect a cross country trails map from Dinner Plain Visitor Information Centre
Pub to Pub
This Cross Country Skiing Race is over 20 years old. The famous 10km race from the General Store to Dinner Plain Hotel is an event for skiers of all ages and abilities, you'll find first year skiers lining up with Australian ski champions.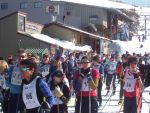 Some important facts:
Length: 10 kilometres
Ski: 4 hours one way
Track: Groomed (when sufficient snow)
Grade: Intermediate
Start: Hotham Heights General Store
Finish: Dinner Plain Village
This popular and well-marked trail winds through a woodland of snow gums, with their gnarled, brilliantly-coloured trunks a vivid contrast to the white surrounds. The trail meanders across the snowy expanses of Paw Paw Plain, offering glimpses of Mount Tabletop and the Dargo High Plains.
It drops to Mother Johnson Flat, named after the somewhat disreputable owner of a wine shanty on the way to the goldfields, and then past the old cattle yards of JB Plain before crossing several small creeks and springs as it heads to Dinner Plain.
There are numerous access points along the Great Alpine Road, and the section from JB Plain to Dinner Plain is suitable for beginners. It is also a great walking trail during summer, when the high country is dotted with colourful wildflowers. Pub to Pub website for online registration
Driving in the Snow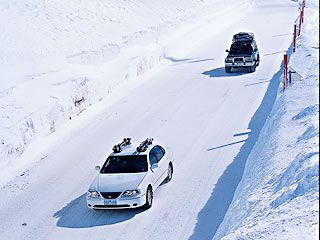 Driving in the snow can be very daunting, but with sensible thinking, patience, having the right equipment and by taking it slow, you will have a more comfortable and safe drive.
Chains
During the declared snow season you are legally required to carry snow chains in your car at all times and fit them when instructed. You can hire chains at the base of the mountain at Hoys in Harrietville & Hoys Chains Omeo, Rays Ski Hire in Myrtleford and Billys Ski Hire and Service Station in Omeo and at various other ski and snowboard outlets.
Tips:
Have a test run at fitting the chains before you come up to the snow so that you feel comfortable putting them on your car.
Ensure that you fit the chains on the driving wheels. For example: front wheels if it is a front wheel drive and the back wheels if it is a rear wheel drive.
Use the chain fitting bays at all times, fitting them elsewhere can cause an obstruction to traffic and snow clearing equipment.
At all resorts you can be fined if you are not carrying chains or do not fit them when instructed.
It is difficult to fit chains to cars that are covered in snow. If you did not require them on your trip up, you might like to fit them in your car park upon arrival as it will save you time on your trip home if chains are required. If not, just remove them before you leave.
Do not drive faster than 40km/hour when you have chains fitted on your car.
Petrol Stations and Alpine Diesel
There are no petrol stations located in Mount Hotham or Dinner Plain so it is essential that you fill your car up before you start to come up the mountain. The last petrol stations before you come up are located at Bright and Omeo.
If you have a diesel car it is very important that you have alpine grade diesel in your car. It has certain additives that stop the diesel from freezing. Most petrol stations located in the alpine area should have alpine diesel, but it is always a good idea to check before you start to fill up your tank.
Resort Entry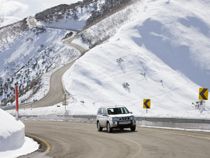 People travelling to Mount Hotham will no longer need to stop at the resort entry gate to purchase their resort entry. Hotham visitors will be able to pre-purchase resort entry via internet or Smartphone access. The customised technology utilises infrared cameras to photograph guests' vehicle number plates when they enter the resort, software then reads and matches the plates against guests' pre-purchased entry. This new system will allow greater growth of patronage at Mount Hotham while maintaining a high level of service and convenience
Visitors to Hotham Alpine Resort without internet or smartphone access can purchase ticket-less resort entry over the phone, at off mountain providers including Hoys in Harrietville and Billies in Omeo or at the Resort Management Board Office in Hotham.
For more information follow this link to commonly asked questions.
To book your resort entry, click here.
Dinner Plain is located outside the Mount Hotham Resort border. People who are visiting Dinner Plain do not need to buy resort entry unless they plan to visit Mount Hotham and park their car in the resort boundaries.