Winter in Dinner Plain
Activities
Snow Play
During the peak of winter, the perfect snow-playground is right outside your doorstep! There is nothing better than the classic family fun of building a snowman, or an impromptu snowball fight, and Dinner Plain offers no lack of locations. Toboggan slopes are open free of charge and are located down the end of Scrubbers end, you will need to hire or bring your own toboggan.
Cross Country Skiing
Dinner Plain and Mount Hotham have 35km of free to access groomed cross country trails that do not require a lift ticket. There is a fantastic 10km trail that will take you from Dinner Plain up to Mount Hotham. Hoys Ski Shop opposite our office hire out a great selection of Cross Country equipment and will help you select the right equipment. You can collect a free map from our office
Downhill Skiing and Snowboarding
Considered the 'Powder Capital' of Australia, Hotham is the only resort in the Southern Hemisphere where the Village is located on top of the mountain, ensuring endless awe-inspiring views. With thirteen chair lifts and three terrain parks, Hotham has just what you need, no matter what type of snow adventure you're looking for. Tickets and lessons for anyone from a beginner to an expert can be purchased at the Mt Hotham Website. We recommend prebooking your skis/boards/snow gear through Hoys Skis-tehy have 5 conveniently located ski shops including one in the centre of Dinner Plain. Excellent customer service, high quality snow equipment & very competitive prices hoysskis.com.au
Is a great way to explore Dinner Plain and its surroundings. Snowshoes are available for hire from Hoys Ski Hire in Dinner Plain.
Sled Dog Tours
Howling Husky Sled Dog Tours and their team of Siberian Huskies can take you on a thrilling ride across snow through the beautiful village of Dinner Plain. Get ready for a view like no other and tail-wagging good time! We'll show you the unique Australian Alpine environment and glide through the Snow Gums of Victoria's picturesque Dinner Plain Village. After your sleddog tour, meet the huskies, share some time with them and take lots of photos.
Call 0488 040 308, email info@howling huskys.com.au or visit their website here to meet the dogs and make a booking.

Restaurants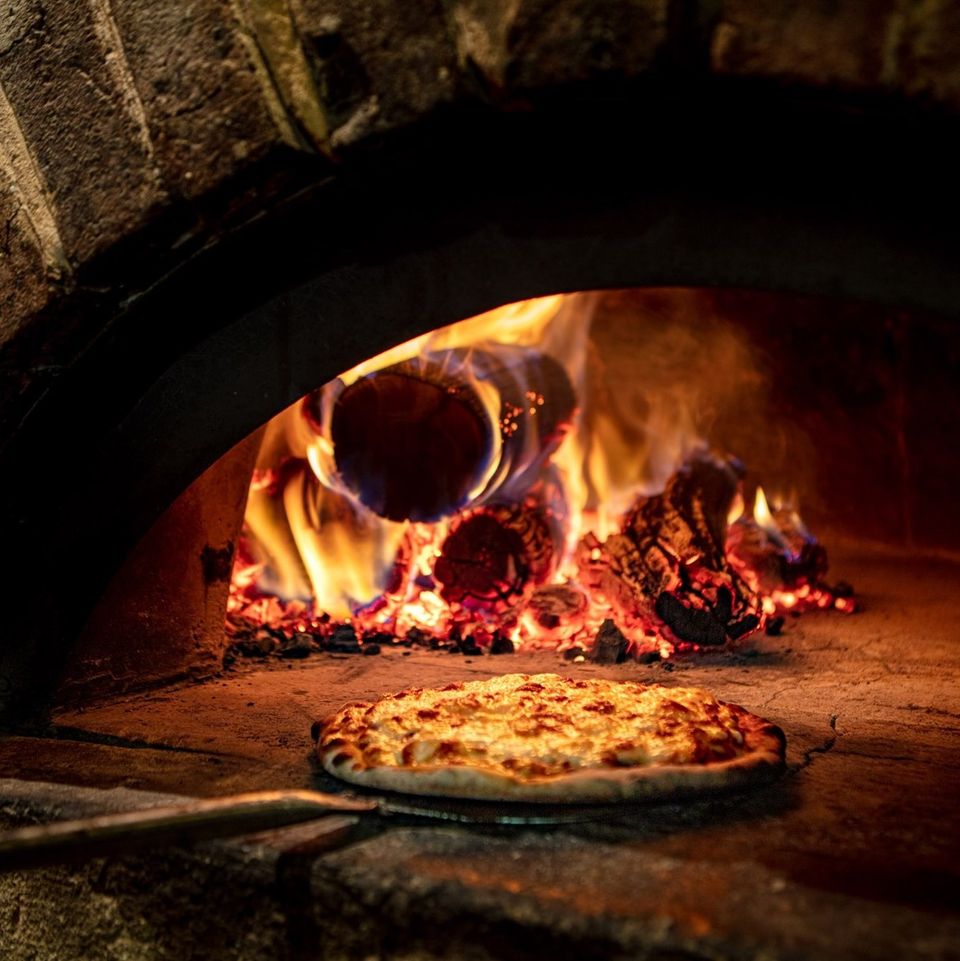 Hotel High Plains hosts the Cobungra Bar and Stones Throw Restaurant, both of which serve a delicious range of food for dine-in or take away. Known for their delicious wood-fired pizzas this place is definitely worth coming in for a meal or drink. A large selection of local wines and 6 different tap beers will keep you hydrated over a game of pool or darts, a romantic dinner, or family meal. Call 5159 6324 to make a booking.
Ramada offers a wide array of cuisine made from locally sourced ingredients. Open for Lunch and Dinner the menu changes often so you will always be able to find something delicious to try. The bar has a daily happy hour from 5-6 pm and many locals would recommend enjoying this around their recently renovated heated fire pit. Bookings for Dinner are essential so please call 5159 6500 to avoid missing out.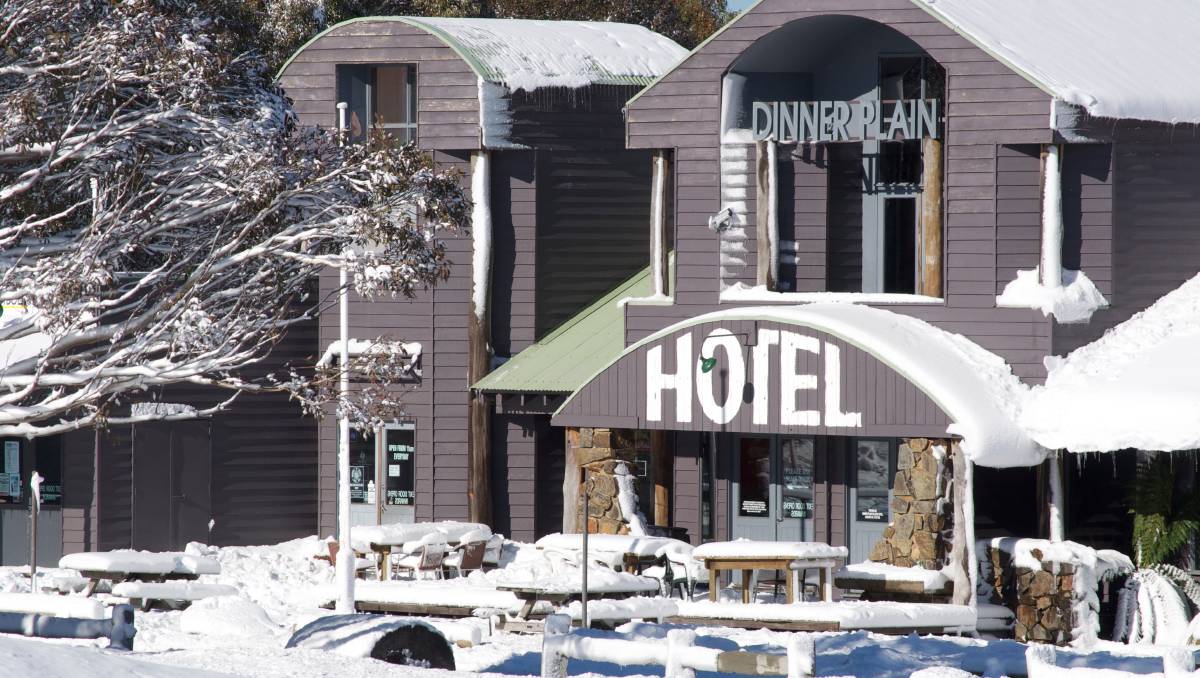 This iconic pub features a huge lounge, three spectacular open fireplaces, and a bar-bistro serving your pub favourites. A great venue for larger groups and families with the largest indoor seated capacity in the village. Call the pub on 5159 6462 to make a booking for lunch or dinner and if you're a fan of the mighty chicken parma, don't hesitate to order one!
Alphutte at Dinner Plains warm, relaxed and comfortable ambiance is ideal restaurant & bar for unwinding after a day on the slopes around Mount Hotham. The open fire and snow covered terrace provide a delightful setting to enjoy our European inspired cuisine accompanied with a bottle of wine or one of our hand crafted cocktails. Alphutte has proudly served Dinner Plain for 10 years and we are open for dine in only throughout the winter months.
The Hub is a new social enterprise driven to foster social change in the village. Serving locally roasted coffee and beautiful bites this business has a mission to improve the health, social and mental wellbeing of the Dinner Plain & Mount Hotham Community. You'll find the Hub across the road from our office.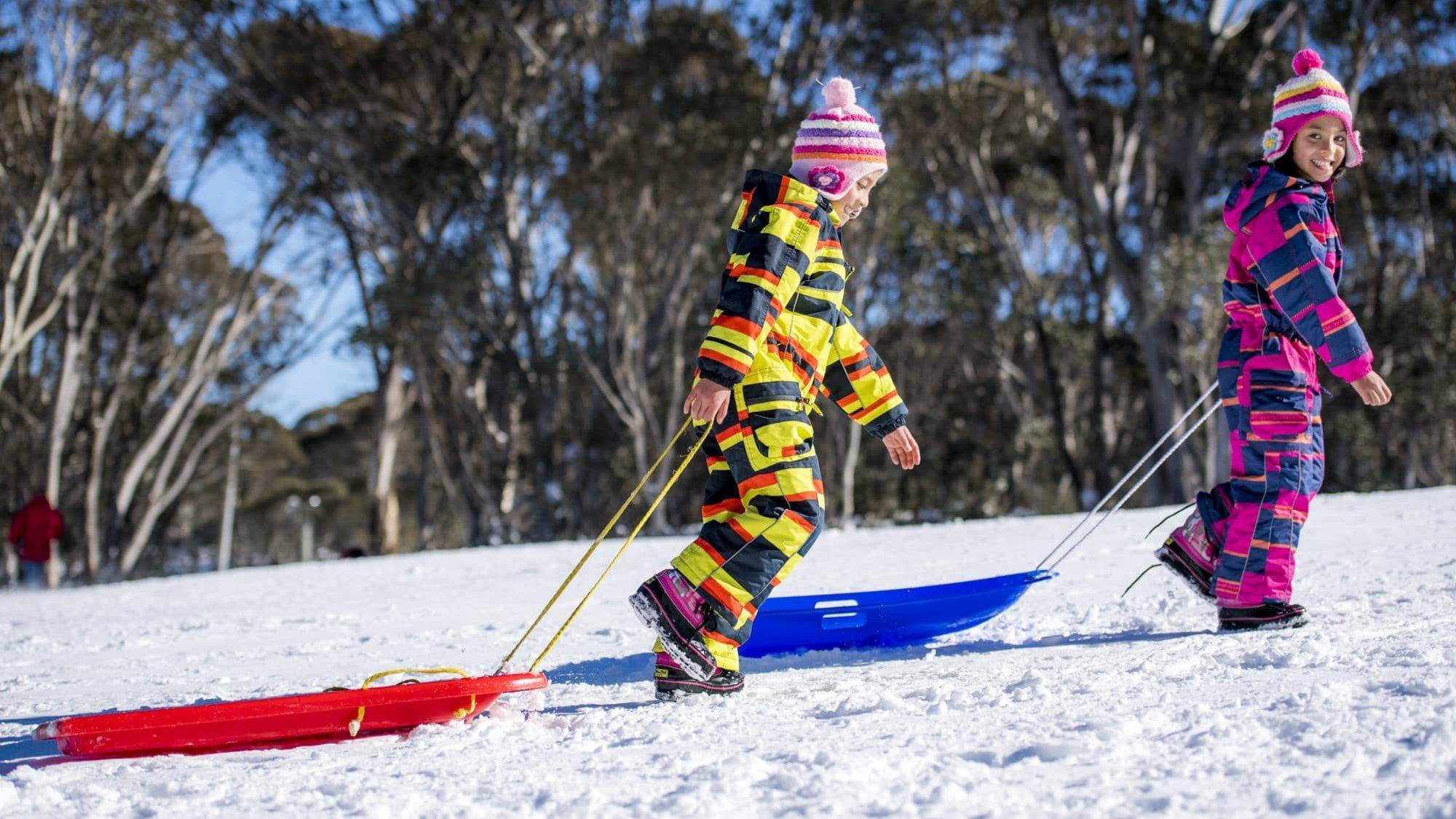 Located in the building at the bottom of the Dinner Plain Ski Run, this licenced cafe serves great hot chocolate, a wide array of snacks and a small selection of beverages. It's a great place to sit while the kids play on the slopes.
Supermarkets
The DP Pantry will be open 7 days a week to stock up on the essentials and some local produce. At Mt Hotham a supermarket opens over winter in the White Crystal building as well as at the General Store in Mount Hotham, summer and winter phone 5759 3523.
Special Events
Sled Dog Challenge
Australia's original, and most prestigious Sled Dog race annually sees Sled Dog teams from across Australia competing for victory on the stunning tree-lined trails of Dinner Plain. More than 60 Mushers and in excess of 300 dogs flock to the village for several days of fun competition across several different classes. With many of our properties being dog-friendly you can even bring your best mate along to Dinner Plain. However, the event coordinators ask that for the weekend of the challenge, non-competing dogs are kept well away from competing dogs.

Pub to Pub
This Cross Country Skiing Race is over 20 years old. The famous 10km race from the General Store to Dinner Plain Hotel is an event for skiers of all ages and abilities, you'll find first-year skiers lin expanses of Paw Paw Plain, offering glimpses of Mount Tabletop and the Dargo High Plains. It drops to Mother Johnson Flat, and then past the old cattle yards of JB Plain before crossing several small creeks and springs as it heads to Dinner Plain. You can visit the pub to pub website for registration and more information.p with Australian ski champions. This popular and well-marked trail winds through a woodland of snow gums, with their gnarled, brilliantly-coloured trunks a vivid contrast to the white surrounds.
Getting to Dinner Plain
Getting to Dinner Plain is an adventure in itself. The Great Alpine Road in High Country Victoria stretches 303 km from Wangaratta to Bairnsdale, reaching 1,840m at Mount Hotham to set the record as Australia's highest road. It is one of the most spectacular roads in Australia, with views like nowhere else in the country. The journey along this road will take you through rolling river valleys, pristine bush, quaint towns and gourmet food regions, with the best bit of all climaxing with dizzying views of Mount Buffalo and Mount Feathertop as you spiral your way up Hotham. Unlike all the other major ski resorts, there is no resort entry fee in Dinner Plain.
By Car
From Melbourne - The fastest and most common way of driving to Dinner Plain is via the Hume Highway, exiting at Wangaratta to join the Great Alpine Road. It's also possible to exit at Glenrowan and continue on to Snow Road, which cuts through the Milawa Gourmet Region. But this is not the only way to get here. In winter when the snow is falling, the southern route via Bairnsdale and Omeo is generally safer, with less snow and ice on the road.
These two routes can be combined into a wonderful loop out of Melbourne that explores both the High Country and Gippsland.
From NSW - If you're coming down from the NSW border, the most direct route to Dinner Plain is to travel down the Hume Highway, exiting at Wodonga to drive south via Yackandandah and Bright.
Snow chains & antifreeze
With the snow comes fresh chilly temperatures, which means you'll need to take a few extra precautions. If your vehicle takes Diesel we recommend you use antifreeze and alpine diesel in your tank to make sure your car continues to run smoothly. And as the road can get snowy or icy, you will need to drive cautiously.
For your safety, snow chains must be carried at all times during the snow season and be fitted when directed at signposted chain fitting bays. Please note: it is law to carry chains in your car prior to ascending the mountain from either Omeo or Harrietville. You can hire chains at the base of the mountain at Hoys in Harrietville (free fitting and removal mobile service on the Harrietville side) & Hoys new Omeo ski shop. Contact Hoys today to discuss whether your car can fit chanins as not all vehicles can hoysskis.com.au
Below are some things to remember about chains.
Please note-not all vehicles can fit chains so please contact hoysskis.com prior to leaving home to make sure your car can fit chains.
Have a test run at fitting the chains before you come up to the snow so that you feel comfortable putting them on your car.
Ensure that you fit the chains on the driving wheels. Front wheels if it is a front wheel drive and the back wheels if it is a rear wheel drive.
Use the chain fitting bays to put on and remove chains
You can incur fines if you are not carrying the correct chains or do not fit them when instructed
Do not drive faster than 40km/hour when you have chains fitted on your car.
Car Parking
Please park in designated areas at your accommodation. Fines will be issued for vehicles parked in no standing areas. If you have more cars than advertised spots at the property you will need to park additional cars at the overnight car park located at Scrubbers End. Permits for this can be obtained from our office free of charge.
Petrol Stations and Alpine Diesel
There are no petrol stations located in Mount Hotham or Dinner Plain so it is essential that you fill your car up before you start to come up the mountain. The last petrol stations before you come up are located at Bright and Omeo. If you have a diesel car it is very important that you have alpine grade diesel in your car. It has certain additives that stop the diesel from freezing. Most petrol stations located in the alpine area should have alpine diesel, but it is always a good idea to check before you start to fill up your tank.
Resort Entry
Dinner Plain is located outside the Mount Hotham Resort border. People who are visiting Dinner Plain do not need to buy resort entry unless they plan to visit Mount Hotham and park their car in the resort boundaries. Hotham visitors will be able to pre-purchase resort entry via internet or Smartphone access. Visitors to Hotham Alpine Resort without internet or smartphone access can purchase ticket-less resort entry over the phone, at off mountain providers including Hoys in Harrietville and Billies in Omeo or at the Resort Management Board Office in Hotham.
For more information follow this link to commonly asked questions.
To book your resort entry, click here.
Access by Public Transport
Busses connect Dinner Plain with Melbourne, Adelaide and Sydney as well as train services in Wangaratta and Albury, as well as Albury and Melbourne airports.
Snowball Express - The Snowball Express, operated by Alpine Spirit Coaches operates on the weekends.
Snowballexpress.com.au 1300 656 546
Alpine Spirit Coaches also offers professional Coach Charter and Private Transfer services for schools, groups and individuals from any location including but not limited to Albury Airport, Hotham Airport and Melbourne Airports.
office@alpinespirit.com.au 03 5752 1333
Alps Bus Link - The Alps Bus Link by Dyson group operates between Omeo and Bright three days a week on Sundays, Wednesdays and Fridays throughout both summer and winter months. It is an affordable transport option. The service also links up with V-Line train services operating from Wangaratta and Bairnsdale.
dysongroup.com.au/alps-link 5151 1711
Taxi options
www.hothamtaxi.com.au / www.snowdog.com.au or www.alpinespiritcoaches.com.au
Ski Hire and Sales Outlets
Hoys Ski
Lift tickets can be purchased directly from the Mt Hotham Website.
We recommend pre-booking your skis/boards/snow gear through Hoys Skis they have 5 conveniently located ski shops including one in the centre of the Dinner Plain village. Any issues while up at Hotham riding just head into one of Hoys 2 on mountain shops for help. Excellent customer service, high quality snow equipment & very competitive prices. Hoys are offering lots of deals this season including an extra 5% off if booking before 1st June 2023; a value season offer; super low rates for Epic Pass holders; 5th consecutive day rentals for FREE & 30% off all ski & board rental packages if you book minimum 3 days in advance. hoysskis.com.au
Access to Mt Hotham
By Bus
Dinner Plain - Hotham Bus
To catch a ride is simple - purchase your ticket online and have your barcode ready to present to the driver for scanning as you board. Jump on the bus from any of the convenient bus stops listed below:
Refer to the below timetable for serviced bus stops in Dinner Plain and Hotham precincts.
Please note, travel from Mt Hotham to Dinner Plain is free on the Dinner Plain bus service. Tickets are only required when travelling in the direction from Dinner Plain to Mt Hotham.
By Car
If you're driving from the Village to Mt Hotham you will need to purchase resort entry for your vehicle. The resort Entry system is managed through a responsive camera system, meaning you no longer have to stop at the gate. This can be purchased at Alpine Easy Accessand needs to be done before you enter the resort.
Parking does fill up quickly so if you are hoping to secure a park at the Corral Car Park (opposite Hotham central) or close the Big D Ski School, we would strongly advise arriving early.
Enjoy the slopes!